KGS collect RM14,670 for Rotary's End Polio cause
Thursday, 27 January 2022
---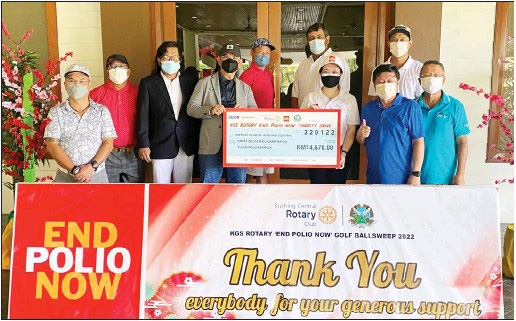 Mazlan (fourth left) presents the mock cheque to Chan while KGS and organising committee members look on.
KUCHING: Kelab Golf Sarawak (KGS) raised RM14,670 for the Rotary End Polio Now via three events last year.
They were the Rotary End Polio Now Golf Charity Drive, Diwali Golf and KGS-OBYU Short Game and Longest Drive Competition.
KGS vice president Datuk Mazlan Mohamad Salleh, who handed over the collection to Rotary Club of Kuching Central president Andrea Chan, said KGS was happy to be able to help those in need.
"The purpose of this charity campaign is to provide financial support to people suffering from polio to overcome the disease and I would like to thank Rotary Club of Kuching Central for having this campaign in KGS.
"If possible, we would like to hold this campaign in KGS every year," he said.
Chan, who thanked KGS for collaborating with the club, said this is not only the first time that Rotary Club of Kuching Central organised such an event but it was also a first for the Kuching District which has six rotary clubs.
"Our District leaders are now exploring the possibilities of using this as a model to be carried out in the rest of the District 3310 which includes Sarawak, Sabah, Johor, Malacca, Labuan, Brunei and Singapore.
"The funds will be channelled to the End Polio Now fund with the Rotary Foundation, which will be matched 2 to 1 by the Bill and Melinda Gates Foundation," she said.
"Rotary Club of Kuching Central would also like to express our heartfelt gratitude to Minister of Youth, Sport and Entrepreneurship Development Dato Sri Abdul Karim Rahman Hamzah for his contribution of RM5,000 when he launched the End Polio Now Golf Charity Drive on Nov 12 last year," added Chan.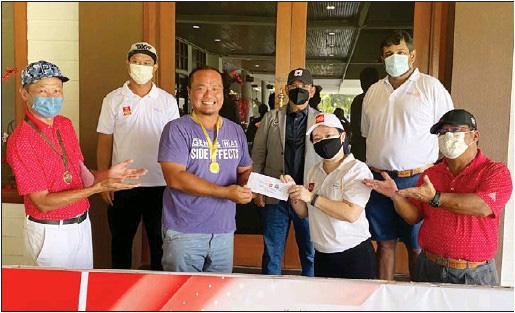 Meanwhile, Tan Yin Hing collected 37 Stableford points to emerge as the champion of the KGS Rotary End Polio Now Golf Ballsweep yesterday.
He beat Yahya Ibrahim, Johari Aman and Abu Bakar Kiprawi into second, third and fourth placings respectively on count back (OCB) after they returned a similar score.
The fifth to 10th placings were also decided by OCB, with Richard Sim finishing ahead of Kasim Gani, Bob Chew, Abdul Aziz Ismail, Dr Mak Met and Stephen Mau Matahary Maurice Bujang. Fifty-one KGS members took part in this competition.