Pan Borneo
---
THE PAN BORNEO INTER-CLUBS MEET
(held annually and hosted in rotation by a Rotary Club in Borneo)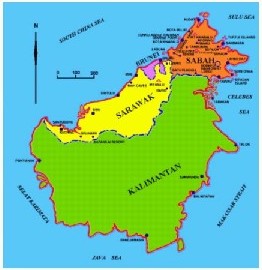 The Pan Borneo Inter-Clubs Meet started in 1984 as an intercity meet for the Rotary Clubs in Kuching, Sibu and Miri in Sarawak, East Malaysia, which were then under Rotary International District 330 Group 11.
As these clubs are geographically far apart and were not easily accessible, the concept of an intercity meet was proposed by the Rotary Club of Kuching, which was then under the leadership of President Kang Tee Yong, in response to RI President Carlos Canseco's theme of "Discover A New World Of Service."
The intercity meet would alleviate the difficulties being experienced by the three clubs coming together to exchange ideas and would also permit closer ties to be formed between them. Prior to this, the only time the clubs made contacts was when visiting Rotarians from one of the clubs attend the Rotary meetings of another club.
The objective of the intercity meet were:
To provide opportunity for Rotarians in these clubs to meet
To exchange ideas on all aspects of the Rotary movement
To identify a project that could be jointly undertaken by the clubs
The proposal was readily accepted by the Rotary Club of Sibu and Miri, which was under the leadership of President Clement Tiong and Kiu Chiong Ming respectively.
The first Pan Borneo Intercity Meet was held in Kuching on 8th December 1984. It was attended by the Presidents of all the three clubs and more than thirty Rotarians.
In 1987, the Intercity Meet expanded to include Rotary Clubs from Sabah and Brunei to become the Pan Borneo Inter-Clubs Meet. A tradition of the annual Pan Borneo Inter-Club Meet started then with a Pan Borneo project being carried out by the hosting club, funded by RM1,000.00 contribution from each participating club in the Pan Borneo.
The Rotary Club of Miri hosted the first Pan Borneo Inter-Clubs Meet and the first Pan Borneo project was the donation of medial and sports equipment to the Home for the Aged in Miri.
The second Pan Borneo Inter-Clubs Meet was hosted by the Rotary Club of Bintulu although there was no Pan Borneo project carried out then.
In the true spirit of Rotary, participation in the Pan Borneo Inter-Clubs Meet has not been confined to Rotary Clubs from Borneo alone. At each Meet, Rotarians from our neighbours join us in the spirit of fellowship, in peace and understanding, in furthering our guiding principle of Service Above Self.
33rd PAN BORNEO MEET (2022)
https://rotarydistrict3310.com/32pbm/
30th PAN BORNEO MEET (2018)
https://rotarydistrict3310.com/pbm2018/
26th PAN BORNEO MEET (2013)
https://www.rotarydistrict3310.org.my/26thpanborneo/