Message from President 2022-23
Thursday, 30 June 2022
---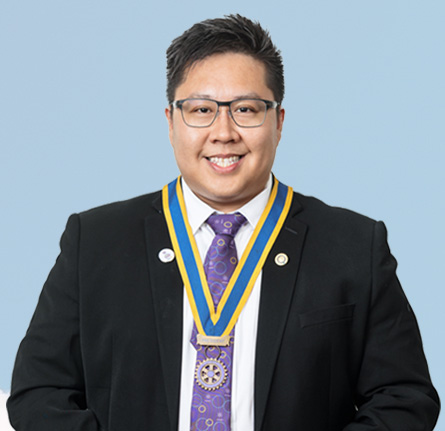 Greetings to my fellow Rotarians, Spouses, Friends, and Guests:
First and foremost, I would like to express how honored, privileged, and humbled I am to be asked to serve as the upcoming president of Rotary Club of Kuching Central for the year 2022 to 2023. Rotary Club of Kuching Central has always been an incredible organization that does incredible things, and I will do my best to represent it well.
Without a doubt, the outbreak of the COVID-19 pandemic has led to a global health crisis that has shaken the world and completely changed the everyday life of every individual. Not only has it affected the global community, it has also posed new and unimaginable challenges for all Rotary Clubs. However, given that we are functioning in the midst of a pandemic, we are unsure about a number of things, but never about the resilience and dedication of our Rotarian pledge of service above self.
Recognizing that imagination is what leads to worry and anxiety, our imagination is also our greatest strength, and without it, our life would be rather dull and meaningless. The power of imagination has no boundaries, and together with the value of creativity makes a man shape his future into reality. So, let us find opportunities in the changes we can make to transform the world.
As your new president, my goal is to align us with this year's presidential theme: Imagine Rotary. According to what Rotary International President Jennifer Jones has said, "Imagine a world that deserves our best where we get up each day knowing that we can make a difference". Imagine that we can make an impact on our community, together we can make the world a better place.
This year, I will work on the 4 main goals:
Increase our impact
This year, we aim to enhance our community impact by launching polio eradication programmes, increasing contributions to the Annual Funds, and forming new partnerships with other non-governmental organisations.
Expand our reach
One of our action plans for this year is to broaden our community reach by increasing club awareness in the community, and developing innovative clubs in the district. By doing so, we could raise Rotary's global profile as a group of people with influence, purpose, and action.
Enhance participant engagement
It is also crucial to engage members and develop programs targeting personal growth, leadership development, service, and collaboration between all participants. These programs help to enhance collaboration while also fostering innovation and creativity, bringing better values to the community.
Increase our ability to adapt
RCKC will work on strengthening members' ability to adapt quickly to the new changing world by providing chances to imagine collectively to bring new ideas. By organising brainstorming sessions, everyone in a group is given chances to imagine and share ideas, coming out with better ideas.
I would like to express my gratitude to prior presidents for paving the road, as well as all of our members for their tireless efforts in supporting the club's activities and objectives.
Also, I would like to express my gratitude to the board of directors and chairs for the years 2022-23. Thank you very much for your willingness to take up the responsibility & challenges to work together to bring values to the Club and our society.
In short, I would like to express how humbled and honoured I am to serve as your president this year, and I look forward to be working with the board and each member as we all move forward to create a lasting impact across our communities and in ourselves.
Imagine Rotary: The impact begins with us!
Thank you.
Michael Kuan
President 2022-23
Rotary Club of Kuching Central