Message from President 2023-24
Tuesday, 11 July 2023
---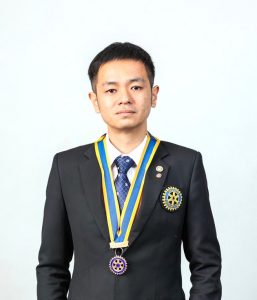 Dear fellow Rotarians, Distinguished guests, Friends of Rotary,
I extend my warmest greetings to all of you as the President of the Rotary Club of Kuching Central. Today, we gather here to mark a momentous occasion—the 38th Installation Ceremony, a celebration of our club's rich legacy and an opportunity to look forward to the possibilities that lie ahead. This year, our Rotary theme, "Create Hope in the World," encapsulates the very essence of our purpose.
In a world often fraught with challenges, it is our duty as Rotarians to be beacons of hope, illuminating the path towards a brighter future. Through our collective efforts, we have the power to make a lasting impact, to uplift communities, and to inspire positive change. It is this shared commitment to service and fellowship that unites us as members of the Rotary Club of Kuching Central.
Throughout our club's history, we have witnessed the incredible transformations that can occur when hope is ignited. From the countless projects that was carried out when the world was shut down due to Covid-19 till now, it is this flame that fuels our passion and compels us to extend a helping hand to those who need it most. Together, we can create a ripple effect of hope, reaching far beyond our local community and leaving an indelible mark on the world.
As we embark on this new Rotary year, let us honor the traditions and values that have guided us. Our commitment to service, integrity, and fellowship remains unwavering. Staying true to the 4 way test, we celebrate the diversity and inclusiveness that defines our club, where individuals from various backgrounds come together as a force for good.
To the outgoing leadership team, lead by non other than our extremely capable, President Michael Kuan, I express my heartfelt gratitude for your dedication and exemplary service. Your tireless efforts have paved the way for our continued success. It is upon the strong foundation you have built that we stand, ready to embrace the challenges and opportunities that lie ahead.
To my incoming Board Members, I look forward to working with you as the Club has entrusted us with the responsibility of carrying our club's torch of hope forward. Embrace this privilege with passion, innovation, and a steadfast commitment to our shared purpose. Together, let us explore new avenues for service, cultivate meaningful partnerships, and inspire others to join us in our mission to create hope in the world. To the many sponsors who are the key to making our community service projects possible, Thank you!
In the coming year, we may face uncertainties and obstacles, but I am confident that our collective strength and resilience will prevail. Each member of our club possesses unique talents and perspectives that, when combined, form a powerful force for change. Together, let us harness our collective abilities, pool our resources, and collaborate in ways that magnify our impact.
In closing, I express my deepest appreciation to all of you for your unwavering dedication, support, and belief in the Rotary Club of Kuching Central. It is through your commitment that we can create hope, transform lives, and make the world a better place.
May this Installation Ceremony serve as a reminder of the incredible journey we are embarking upon together. Let us infuse hope into every endeavor, nurturing a brighter future for all. With each act of service, we create ripples of hope that extend far beyond what we can imagine.
Yours in Rotary,
Calvin Chong
President,
Rotary Club of Kuching Central
Year 2023-2024